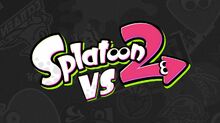 Splatoon 2 for the Nintendo Switch was the fourth versus project between TheJamesRolls and L8RG8R2U. The series ran from March 26th, 2018 to May 2nd, 2018.
You can watch the series from the beginning by clicking here.
DescriptionEdit
"L8RG8R2U and TheJamesRolls are back on the splattlefield!"
Memorable MomentsEdit
Similar to Splatoon Versus, TheJamesRolls lied about winning the story mode, but this time it went on for about 10 minutes
At the end of almost every episode, L8RG8R2U sang a Splatoon-themed parody. The most popular of these was in the first episode where G8R sang a parody of the Lorde song "Team"
L8RG8R2U: "Hmm-mmm, cue the music."
TheJamesRolls: "Oh... wait, what?!"
L8RG8R2U: "We are Inklings! You'll never see us on Steam. We say woomy, and we like to eat ice cream. There's no humans to interrupt our games. And you know, I am here with James!"
Like the first game, this versus mainly focused on the single-player campaign, namely Octo Canyon. After the final boss, L8RG8R2U and TheJamesRolls spent a few videos playing in Private Battles
Recording the episode where the Clam Blitz ranked mode was played was the first experience that TheJamesRolls had with the mode