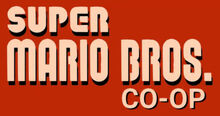 Super Mario Bros. for Nintendo Switch Online is the first co-op project between L8RG8R2U and Pancakearmorman.
The series ran from October 26th, 2020 to November 2nd, 2020. You can watch from the beginning by clicking here.
"To celebrate the 35th anniversary of Mario, G8R and Pancake are playing through the game that started it all!"
Starting the video on the Super Mario All-Stars title screen
"Waffles are better than pancakes." - James, when he suddenly appears during the end of Episode 2
Bob the Goomba
Showing the Fake Bowser's true form during end screens
The first collab to be uploaded every day until completion
Community content is available under
CC-BY-SA
unless otherwise noted.