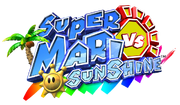 Super Mario Sunshine for the Nintendo Switch is the third versus project between L8RG8R2U and GreenCobrasGaming.
The series began on October 1st, 2021 and is currently ongoing. You can watch from the beginning by clicking here.
Description
[
]
"L8RG8R2U needed a vacation from competing in Mario projects against TheJamesRolls... so instead he's facing GreenCobrasGaming!"
Trivia
[
]
The first Mario versus to not feature TheJamesRolls